A writer's paradise
A 50 for Free recipient celebrates publication day after a retreat at The White House.
In the realm of writing, inspiration can spring from unexpected places and life's challenging moments. For writer Cath Holland whose husband died of bowel cancer in 2019, grief was such an assault on her both physically and emotionally that her own creativity and imagination was stunted. Her personal story was too painful to write about. It was on a 50 For Free stay at The White House in Shropshire that Cath found the space and solace to write a new short story. Published by Arachne Press in October 2023, the work titled 'From Menarche to Menopause,' features in a new collection of short stories; 'Menopause: The Anthology'; short stories and poetry from women experiencing menopause whether naturally or as the result of surgery.
Through her experience, Cath found support with Widowed and Young (WAY), a charity and peer-to-peer network aiding those widowed before their 51st birthday. When WAY was awarded a stay with Landmark's 50 For Free scheme, Cath seized the opportunity to stay at the White House along with a fellow WAY member. The retreat enabled Cath to immerse herself in the rural setting for three days to focus on writing:
'The White House gave me that time and space to write. It was like going back in time to a time capsule. It's a really grand house and a fabulous place to just sit and think, "wow, imagine all the things that happened here". It really widens your imagination. I spent all day writing different short stories, different poems and nonfiction pieces as well.'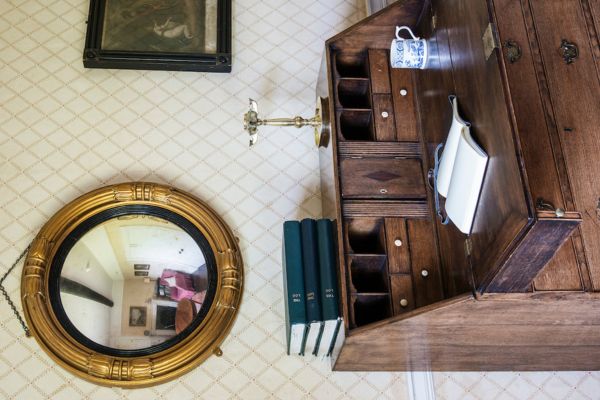 The traditional writing desk at The White House
The short story published on World Menopause Day October 2023 is a satirical piece focusing on how women and girls are exploited commercially through their reproductive lives and beyond. Cath, who has previously spoken about her writing on BBC Radio 4's Woman's Hour and BBC Radio Merseyside, marked the occasion with a performance at The Everyman in Liverpool.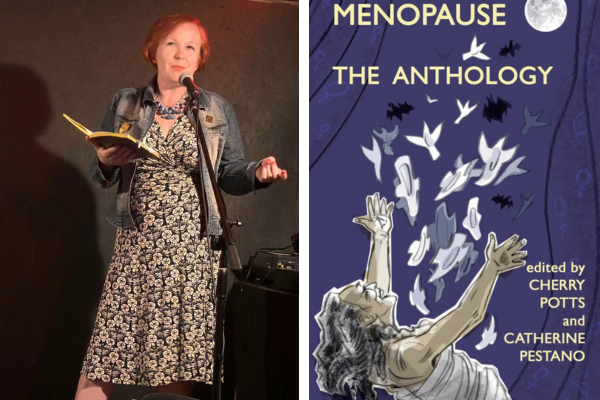 Cath performing live and the book's front cover
Cath expressed her thanks to the organisations who have enabled her latest publication: 'Huge thanks to the Landmark Trust and to WAY for making it possible for me to spend time at the White House. The time was so precious and gave me space to concentrate on my work.'
Apply for 50 For Free 2024
Applications for 50 For Free are open until 28 November 2023. Charities and non-profits are welcome to apply for stays at one of 26 Landmarks, including the White House, for their service users, volunteers or staff. Since the scheme launched ten years ago in 2013, 50 For Free has supported over 3,300 beneficiaries including veterans, hospice carers, homelessness charities and families affected by cancer.