The Mayor's Parlour lock, Maison Dieu, Dover: a new Landmark for 2025
Project Development Manager Alastair Dick-Cleland offers a glimpse of work underway at a new Landmark for six due to open in 2025.
Many Landmarkers will be aware of the buildings in our restoration pipeline, including the Station Agent's House and major project underway at Calverley Old Hall. A third project currently underway, in partnership with Dover District Council, is the Mayor's Parlour Block that forms part of a very large and complicated building called Maison Dieu ('House of God') in Dover city centre.
Maison Dieu began as a monastery around 1200, chiefly offering hospitality to pilgrims travelling to Canterbury Cathedral to visit the shrine of Thomas Becket. The site has passed through many uses over the centuries, until 1834 when it was bought by Dover Corporation to be Dover's Town Hall. In 1859 architects William Burges and Ambrose Poynter were appointed to restore the ancient fabric and convert it for public and civic use. Fast forward to today, when Dover District Council has embarked upon a multi-million pound project, including significant support from the National Heritage Lottery Fund, to restore the whole complex. Landmark is delighted to have been asked to provide an end use for the Mayor's Parlour Block, which forms a self-contained block in one corner of the complex.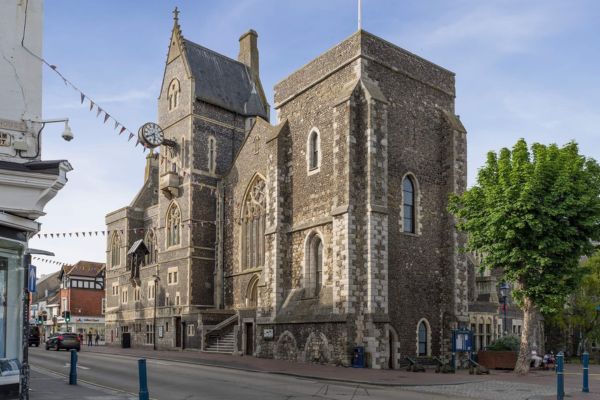 The exterior of Maison Dieu in Dover
Maison Dieu was Burges's only civic commission and takes its place alongside his better-known buildings including Castell Coch, Cardiff Castle and Mount Stuart on the Isle of Bute. At Maison Dieu, he incorporated a law court, prison cells, a fine assembly hall and sumptuous new mayoral quarters. Public and civic spaces alike were embellished by his distinctive and colourful decorative schemes, and he also designed the fixtures, fittings and furniture, many of which remain. The Mayor's Parlour Block was among the richest of these interiors. Staying here, ensconced within the dazzling decorative scheme, reminiscent of that recreated at Augustus Pugin's house, The Grange in Ramsgate, will become a must for anyone captivated by the High Victorian Gothic Revival – or those wanting to explore the delights of Dover and its White Cliffs.
The Landmark, which will have its own private entrance off the street, will be located on the 1st and 2nd floors of the Parlour Block. The 1st floor has the grandest and most decorative rooms, and will comprise a kitchen/breakfast room, the sitting room and the dining room, which was the Mayor's meeting chamber and still has its original Burges circular table (complete with some minor WWII bomb damage) and chairs. The dining room also still retains its Burges decorative ceiling design that will be carefully restored. Elsewhere, all the decoration had been painted over in the 20th century, but painstaking 'scrapes' by conservators have revealed the original schemes and colours, and these will all be recreated to give back the rich interiors that the Mayor's quarters once had.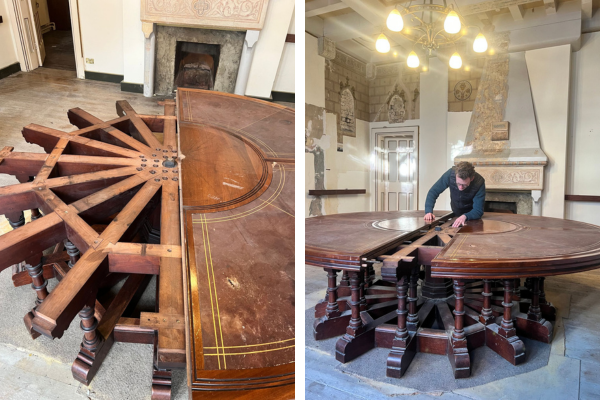 The original Burges circular table
On the 2nd floor there will be one double and two twin bedrooms, each with its own bathroom. These are simpler spaces, once used by clerks dealing with mayoral and civic administration. The walls of one room used to have three rows of images of previous mayors.
Work is well underway across the site, and we expect to be opening the doors in 2025, Landmark's 60th anniversary year. To date, an unsympathetic extension has been removed from the adjacent small courtyard, restoring this to its original proportions. Inside, work is advancing well with new services installed. The three new bathrooms are soon to be installed and, in due course, Landmark's in-house joinery team will be making the new kitchen to go into what was originally the Mayor's robing chamber. As ever, great attention to detail is being applied throughout.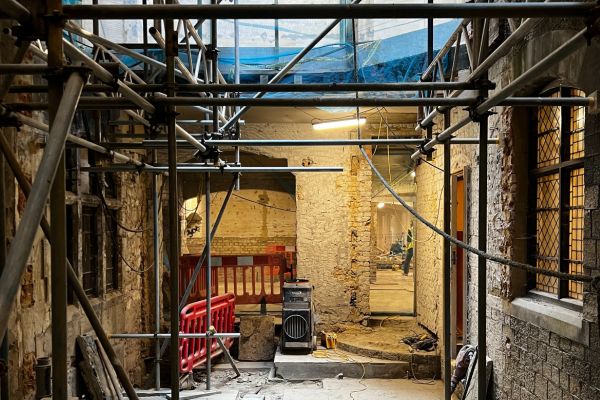 The internal courtyard of Maison Dieu being restored back to its original dimensions
Thanks go to Dover District Council and the project team. You can read more about the history, activities and opportunities across the wider Maison Dieu website.